Place Your Free Ad
Private Online Mailbox
Automatic Scam Filters
300,000 viewers a month (through EPage and its affiliates)
No auction listing fees
Gold members ($10 / 6 months) get 4 pictures per ad, HTML in their ads, free thumbnails, and discounts off most features.
Great Promotion Sites
FREE Classified Ad Sites
Best Search Engines
Best Reciprocal Links
Best Banner Exchanges
Free Webmaster Tools
Free Giveaways
Get Paid for Surveys
Best Free Coupons
A link to highlandclassifieds.com means we can be
'Link Partners'!
Our 'Link Partners' stay at the top of our Link Directory pages. Non 'Link Partners' move to the bottom. Easier for our visitors to find you if you are a 'Link Partner'.
'Link Partners' get a 'Link Partner's' Star next to their description. Easier for people to spot your link!
Our Link Partners have told us they are very happy with the number of hits they receive from our Link Directory.
Reciprocal Links are important. Besides more visitors from the links, the Search Engines give more importance to web sites having lots of links to them. We will both benefit if we have links to each other's web sites.
Instructions for adding a Link and becoming a
'Link Partner'
Use the information on this page to add a link on your website which will link it to ours.
Email Me and I will add the 'Link Partners' Star and make you move to the top of our listings.
HTML Code you could install in your web page.
If You Copy and Paste this program code
It will give you this link.
Free Classified Ads - Highland Classifieds
Free personal and business classified ads including business opportunity, FSBO, mlm, employment, real estate, auto, merchandise, announcements, and other classified ads
---
This HTML code in your web page will result in the following banner:
178 pixels wide X 70 pixels high.


---
This HTML code in your web page will result in the following banner:
233 pixels wide X 94 pixels high.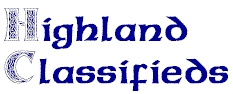 ---